FenceCorp, Inc. to Ensure Legal Status of Employees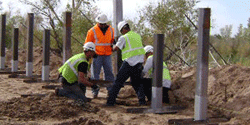 Maintaining a workforce that includes only citizens and legal residents of the United States is a challenge for all companies, especially those in the construction industry. FenceCorp, Inc. has taken a number of important steps to ensure that all its employees are legal residents. Since December 2005, FenceCorp, Inc. has voluntarily participated in the E-Verify program run by U.S. Citizenship and Immigration Service (USCIS). Through this program, all of our new employees are screened by the government to help verify their legal immigration status. Participation in the E-Verify program has enabled FenceCorp, Inc. to verify the status of all new employees, while deterring those with fraudulent documents from applying for work.

FenceCorp, Inc. has also implemented intensive training workshops for all employees involved in the hiring process. Regular internal I-9 audits are conducted by an outside firm, providing our hiring and administrative staff with the information they need to do the best possible job of maintaining compliance with immigration regulations.

The company has conducted extensive outreach to hire legally documented workers, including recruitment through the State Unemployment Office, through military veteran employment agencies, community colleges and adult education schools.

An established procedure for responding to annual Social Security "No-Match" letters will also help to ensure our ability to reconcile any apparent record discrepancies.

The company holds it contractors and subcontractors equally accountable for their hiring practices, in keeping with the same high standards as FenceCorp, Inc..

FenceCorp, Inc. encourages other companies in the fencing business to also participate in these government programs as this creates a level playing field in the industry and is the best way to reassure our customers that we are providing dependable service with legally documented workers
The workforce of FenceCorp is dedicated and hard working. Due to the labor intensive environment of our work, our laborers are some of the strongest and toughest employees in the country. We put all applicants through rigorous testing prior to employment and this includes:
Drug screening

Physical exams

Physical abilities testing

Extensive safety training

Complete immigration screening
Please note that all immigration is sent through the Immigration and Customs Agency Basic Pilot Program. The United States Department of Homeland Security recently announced a new program regarding social security screening. Only those with valid documentation and legal status to work in this country need apply.

Once hired our employees enjoy:
If you want to join a team where integrity is the cornerstone of everything that we do, please contact our Human Resource Department.

FenceCorp, Inc.
18440 Van Buren Blvd.
Riverside, CA 92508
951-686-3170
Toll Free: 877-686-3170
Fax: 951-686-3125

FenceCorp is committed to creating a diverse environment and is proud to be an equal opportunity employer. All qualified applicants will receive consideration for employment without regard to race, color, religion, gender, gender identity or expression, sexual orientation, national origin, genetics, disability, age, or veteran status.